Hladamfarby.sk is an e-shop that sells printer cartridges with 95% shopper satisfaction. They offer more than 5,000 types of printer cartridges and have more than 3,000 delivery points. Their services include free shipping and 24-hour delivery. They focus on B2C as well as B2B customers.
Visitero.sk is a marketing agency that takes care of the marketing needs for the e-shop Hladamfarby.sk. Smart Shopping campaigns were created using the BlueWinston tool. The marketing agency focuses on digital marketing, online advertising, and e-commerce consulting. They are an ideal partner for small and medium-sized companies or start-ups.
Assignment – Campaign goal
The goal was to create campaigns comparing the performance of the CSS program, create a Merchant account under the CSS program Shopping in EU, and use the same product feed as in the original Merchant, which has a CSS program in Google.
Two campaigns have been created to test the CSS program:
Smart Shopping campaign – BW Shopping in EU (2123 products)

Smart Shopping campaign – BW Google (2123 products)
Apart from the same products, these campaigns were set up in the same way. The products were advertised in Slovakia with a daily budget of 10€, we used Smart Bidding (target ROAS). The campaigns were not targeting the specific audience and the ad schedule was not set.
We then monitored the results of the campaign through the CSS program.
Why did the client choose two CSS partners?
For testing purposes, the client used the CSS program Shopping in EU and Google CSS. Advertisers get Google CSS automatically when they create Shopping campaigns on Google. When using Google CSS, you don't have any benefits (especially a CPC discount of up to 20%). Based on that, we decided to use both campaigns with the same settings, products, and budget.
When you have multiple CSS partners, you can get more clicks, more impressions, more visitors, and improve the performance of your campaigns.
To compare the CSS program, we chose an interval of two weeks. The total spends during the reporting period was 170€. This means that the CSS program is not only suitable for clients with a high spend, but also for clients who advertise less and their spend is smaller.
This means that the CSS program brought the client -19% CPC, + 15% impressions, + 21% clicks and + 5% CTR.
Why use the CSS program for Shopping campaigns?
From the study, you can see that the CSS program brings many benefits to the table. Spend doesn't play a role so even with a smaller spend while using the CSS program, you can see positive results like the Hladamfarby.sk client achieved.
As stated on our website, the amount of the discount can reach a maximum of 20% from the price per click.
In addition to significantly reducing CPC, the CSS program will affect other metrics as well:
number of clicks

views

CTR% and potentially the number of conversions
Of course, if you get more clicks for the same price, you also have a better chance of converting.
What to do if you have decided to use the CSS program – Shopping in EU?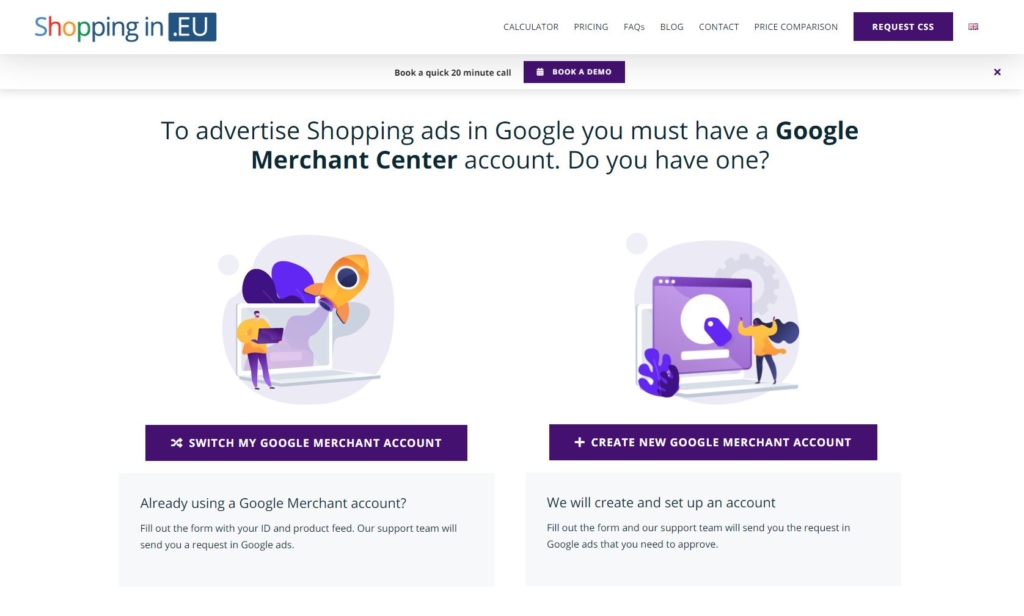 2. You will be contacted by our support team with the next steps. Our support team will switch or create your Merchant account where we can add a product feed and you can start advertising.
3. Done, now you have CSS Shopping in EU active in your Merchant account. Our support will inform you that the switch was successful.
If you use the BlueWinston Google product creation tool, you have our CSS program for free. If you are advertising and you want to use the CSS program without the BlueWinston Google product creation tool, you can have it for only 19€ per month.
You can try the CSS program Shopping in EU for 30 days free of charge, so don't hesitate to contact us via e-mail at support@shoppingin.eu.
Let us help you advertise, more effectively, better and most importantly cheaper.