All right, but what if someone wanted more than just one CSS Partner? It is possible. You can use other CSS Partners besides Shopping in EU, for example Google CSS.
One Google Ads account would be connected to more Merchant accounts, for instance three. This way can one merchant cover more positions with only one product. If a merchant would like to advertise iPhone 11 Pro it would look in the Search results like this:
iPhone 11 Pro Max,
iPhone 11 Pro 256GB Silver,
iPhone 11 Pro 64GB Black.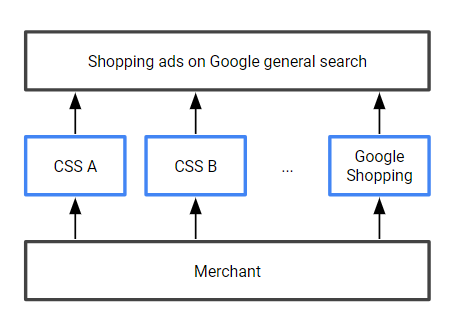 This means that there would not be three same products from one merchant (iPhone 11 Pro Max), but rather three various option of one product from three CSS Partners.
If your advertisement budget allows you to use this opportunity, use it to enlarge your presence on the online market.
What are the pros and cons of having multiple CSS partners?
This can be a good opportunity for retailers to have even better performance of their ads. You can achieve more clicks, more visitors but this will cost you more money than using only one CSS service.
| Pros | Cons |
| --- | --- |
| You can achieve more positions | It can be more expensive |
| More traffic to your website | Harder to manage your products |
| More conversions | Multiple Merchant accounts |
| You can keep Google CSS | Secondary CSS can be expensive |
If you want to try secondary CSS or you just don't want to switch from your Google CSS, you can use our CSS program for free where you will not be charged for the CSS program, only for the ads that you will advertise.
What is the process of requiring additional CSS?
If you decide to keep Google CSS and want to use our CSS too, you can simply fill our registration form. What are the steps?
Fill all the required information.

Under the program, check "I want to create new Google Merchant account".

Our support team will contact you with the additional steps, you will need to send us basic information about your account (name, country, e-mail address).

We will create a new Merchant Center account under our CSS MCA and we will grant you full access to that account.

Now you need to connect your new Merchant account with your Google Ads. After that, you need to upload your product feed and start advertising!

Done, you have a secondary CSS Partner for your ads.
Why are we creating Merchant Account for you?
To apply the CSS service, Google needs to switch your Merchant Account under Partner MCC. We can simply skip this process by creating a new account directly under our CSS MCC, where the CSS program will be immediately applied.
We are looking forward to your registrations!